The Windemere Bed & Breakfast
About the Owners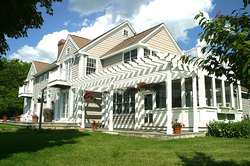 It was pure serendipity that brought us to the town of Washington. We were looking for a house that we both liked and could afford. It turned out to be an 1860 Victorian Farmhouse that needed a lot of work. It wasn't until several months had passed that included wonderful interactions with neighbors and local attractions that we realized how fortunate we were.
Since that first home we subsequently bought some land and built our current home in which we licensed two rooms to become a bed and breakfast and formed The Windemere LLC.
We continue to marvel at the events that brought us to this wonderful place and look forward to sharing it with you. Our spectacular library, the
Gunn Memorial Library
, and its associated museum are a treasure. Great facilities and staff plus a window into local history make it a pleasure to visit. Hikers and nature lovers will be astounded by
Steep Rock
, a privately owned land preserve of almost 2,000 acres open to the public with 36 miles of hiking trails including some for horses, the beautiful and protected Shepaug River that runs through it plus the hand cut railroad tunnel through which the train from New York City ran until it shut down in 1948. The now abandoned road beds form part of the hiking trails. Numerous other venues and attractions also await those interested in the arts, great restaurants and shopping fun. There are many stories to tell and we enjoy telling them.
We have traveled to numerous interesting places around the world. We are both certified divers and have enjoyed the underwater sights in Mexico, Florida, Hawaii, Grand Caymans, Tahiti and Australia. Prior to these recreational experiences, Gary was a commercial diver working on underwater construction and maintenance of coastal power plants. The highlight of his professional diving career was working on the suspension bridge over Narragansett Sound connecting Jamestown to Newport in Rhode Island. Gary is also interested in sailing and has raced and cruised on lakes and rivers plus ocean sailing that brought him to the Caribbean and many of the islands from Puerto Rico to South America. These days he spends more time with his guitar and musically talented friends.
Sandy and Gary have also traveled extensively throughout Europe, Mexico and Australia where they absorbed the local culture and history. Sandy spent a month in India with a small group of people and has maintained a lifelong interest in that country. These experiences and many more plus those brought to us by our guests have made for some very interesting (and long) breakfasts.
Gary is now a realtor with the Matthews Group, a part of William Raveis Real Estate. He approaches his clients with knowledge and enthusiasm as he either introduces prospective buyers to the area or helps persons moving on to sell their homes. Many who have come here for a weekend or summer season have found it difficult to leave and eventually establish a permanent residence here. You can learn more about the area and the wonderful homes available by visiting our website:
www.matthewsgroupre.com
and while there, look him up for more information.
---